By Rujuta Jadhav
Teachers are one of the greatest people you come across in your life. They are not only the selfless givers but also the mentors in your life. I would like to thank Arpeeta ma'm for creating an environment of enthusiasm for learning, appreciation for growing and room for making mistakes along the way. I am grateful to have her as my teacher. She has treated her job not like a profession but her passion. She has been a teacher who never showed me the way, instead taught me how to search for it myself. She has been not just a teacher but a parent to me. No amount of thanks will be enough for all that she has done for me. I found guidance, friendship, discipline and love, everything, in one person. Without her, I would have been lost. She has inspired me to do better in life and guided me throughout. Thanks for being a true mentor.

By Gurjeet Chhabra
There are people who come into our lives and leave a burning sensation that lights up inside each of us. In my life there is a Ravi Lekhwani Sir, who I met twelve years ago. He has had the biggest impact in my life and has kept this feeling of hope inside me.
I am able to look into the mirror and, for one of the first times ever, be proud of the person that I am. You believed in me, and that's all that I really needed. You took the time to care, and not only that, but you made sure that I knew you cared. That has made the difference.
I remember one incident. I went for an interview and because of low confidence I was not able to complete the task they had given me. I felt disheartened and felt like a loser. In place of going home, I went to my computer teacher at the institute. He ask me to do the same project which tha interviewer had given me and I failed. He tried to boost me and remarked that "being disheartened can't make you a winner. If you want to be a winner, then keep rolling." His words had done a motivational magic and pumped a lot of confidence in myself, resulting in me getting my dream job at the leading university as a computer lecturer.
We will probably never forget that person because we owe a little part of our identity, who we truly are, to them. Without them we might never have become the person we are today.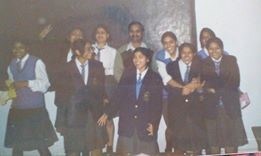 These stories, shared by our dear Woohoo fans, are part of the #WoohooDiaries series. If these stories inspire you (as much as they inspired us to launch this series) or if they remind you of someone you'd like thank, say hello or just send a note to, we at Woohoo would be more than happy to be the medium for your message. To send personalized little e-gift cards / e-notes to them via an SMS, Whatsapp or email, click here. If you'd prefer to have a physical gift card delivered to them, visit us at Woohoo.in.