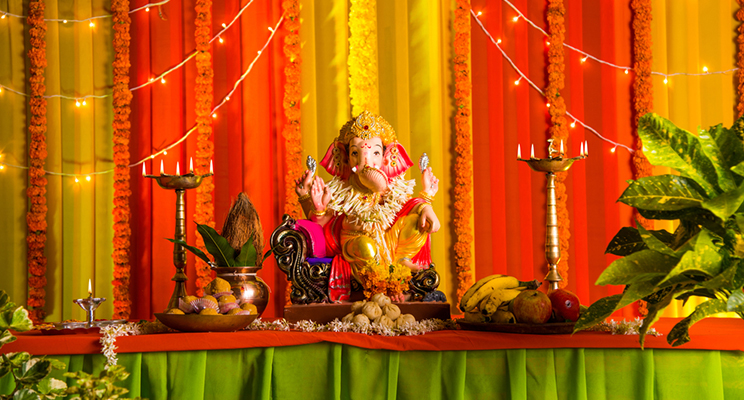 Lord Ganesha is revered as the lord of wisdom, knowledge and prosperity and his blessings are known to remove obstacles from one's life. Also known as Vinayak Chaturthi, this day is celebrated as the birthday of Lord Ganesha, the dear son of Lord Shiva and Goddess Parvati.  It's a festival that's equally dear to the young and the old. Everyone wants to deck up in their best and give and receive gifts!
Know what you want to buy for your loved ones? Opt for gift cards this year. Gift cards are extremely practical and convenient. They take away the stress of choosing an actual gift, while giving a plethora of choices to your loved ones. Gifting must make both the giver and the recipient feel happy; that's what gifting a gift card does. Here are some great ideas for you to pick the perfect Ganesh Chaturthi gift cards.
1. Books
Too many kids are moving away from the real world these days, preferring to find their escape in video games. A selection of wonderful, motivational books will be perfect for the young ones in your circle and you can gift their favourite book now with a Crossword gift card.
When it comes to the elders in your circle, consider gifting them inspirational or devotional music. Nothing soothes the older generation than beautiful, melodious devotional music. Gift a Saavn e-gift card.
2. Apparel
Know anyone who doesn't like to deck up on a festival day? Probably not. So go ahead and splurge on top fashion apparel brands. There are so many to choose from! Check these out – Shoppers Stop, Lifestyle, Marks & Spencer, Allen Solly, Westside – the list is endless!
3. Jewellery and Watches
How about gifting some precious gold and diamond jewellery and top branded watches to your loved ones? Consider brands such as Bluestone or Candere. When it comes to watches, consider Helios and World of Titan for fine watches and Fastrack for fashionable, youthful watches.
4. A great shared experience!
Ganesh chaturthi is a day for families and friends to get together and celebrate. What better way to do that than to enjoy a fabulous meal together? Consider gifting your loved ones a great meal at Spaghetti Kitchen, Noodle Bar and other restaurants. You can see everyone smiling in anticipation already, can't you?
Here's How To Make Gifting Easier This Year

Whether you're residing at home or in another city, you can still send them the gifts of their choice. Do it simply and easily via gift cards. It's easy – buy a gift card, gift voucher or e-gift card from the brand your loved one favors. Let them choose their own gifts from the store outlets. E-gift cards are delivered within minutes, so they're perfect for last minute gifts. To make it more personalized you could try sending E-gift cards using the Woohoo app which allows you to add pictures, voice-notes and text and can be instantly delivered via Whatsapp, SMS or email. So just go ahead and celebrate Ganesh Chaturthi this year, knowing that gifting will never be a problem again.