Know someone in your friends and family circle who is a workaholic? Someone who has not taken a vacation break in a long time? Or Someone who thinks that a vacation means going far away, travelling a lot and getting more exhausted? Then, what could be a more perfect gift for him or her, than a travel gift card from Thomas Cook. Thomas Cook India is one of the leading online travel management companies helping travellers to book international and Indian holiday packages, hotels and flight tickets online.
As the giver, all you need to do is send a Thomas Cook e-gift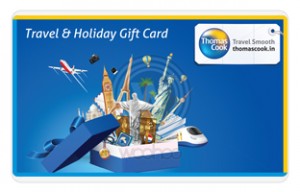 card from Woohoo.in. Your recipient gets your e-gift card instantly along with the terms of validity and your special message. Your gift recipient can easily redeem this e gift card for domestic or international holidays. It will also allow the recipient to book hotels and flights. Your Thomas Cook e gift card covers the entire gamut of the travel experience.
Offers on Thomas Cook Gift Cards
Now, get 10% discount on Thomas Cook gift cards and e-gift cards. Use the code TCPROMO in the checkout page to avail this discounts in a matter of time.