As appeared in The Hindu on March 12, 2018.
Choosing the right gift involves so much of meticulous planning, close study of the recipient's interests and needs, and humongous efforts to keep up the surprise element that it often robs the giver the joy of gifting. Similarly, think of all the unwanted gifts that you have acquired over the years – ill-fitting clothes, out-of-place home décor, and all the irrelevant, meaningless, unappealing things that gather dust and spark no joy that you can't quite wait to 'Kondo' (a tidying movement) them out of your homes and lives. And all those times when you couldn't choose a product to gift someone because you did not know them well enough, but couldn't think of gifting them some cash either because that would be too cold and impersonal.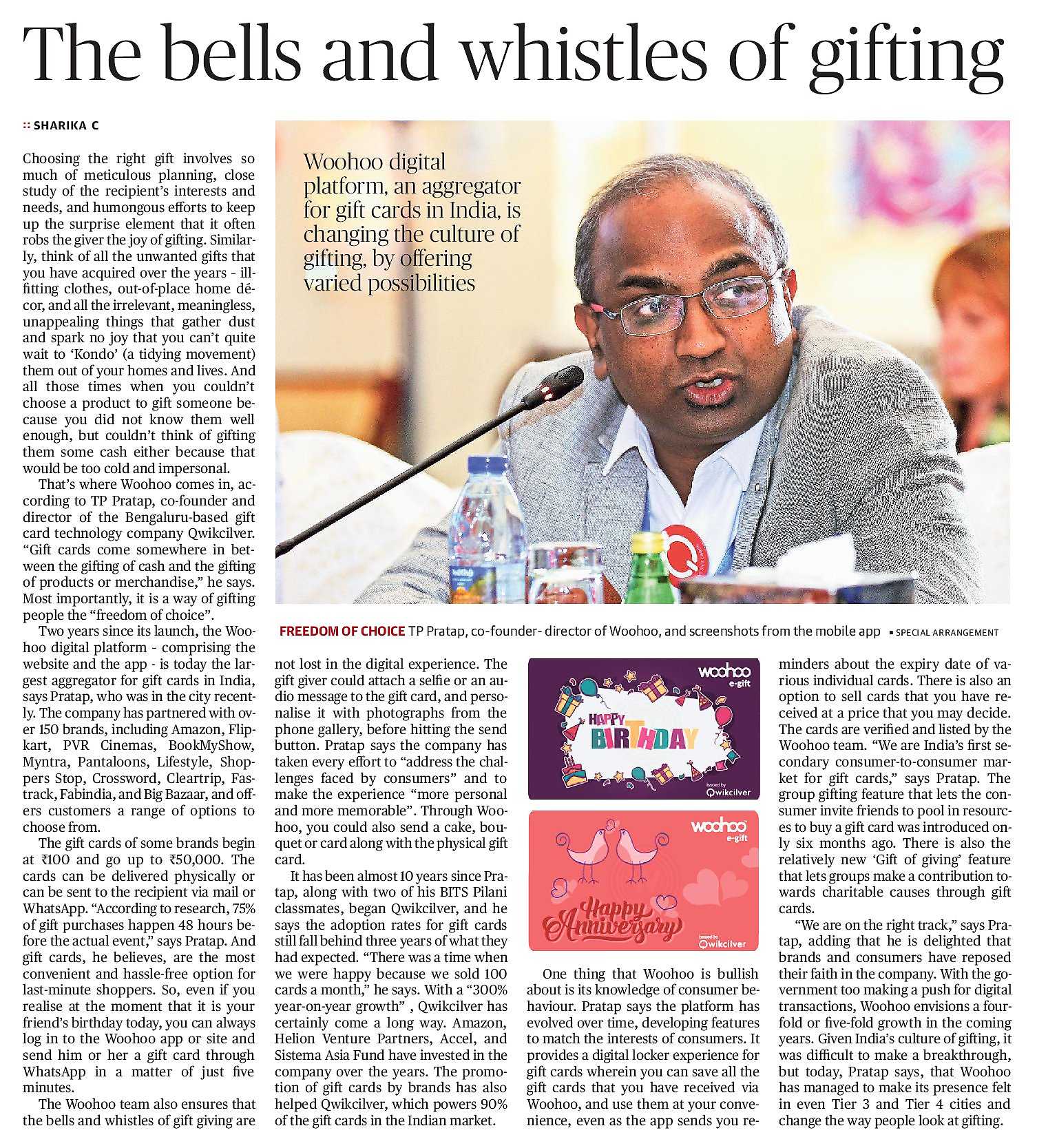 That's where Woohoo comes in, according to TP Pratap, co-founder and director of the Bengaluru-based gift card technology company Qwikcilver. "Gift cards come somewhere in between the gifting of cash and the gifting of products or merchandise," he says. Most importantly, it is a way of gifting people the "freedom of choice".
Two years since its launch, the Woohoo digital platform – comprising the website and the app – is today the largest aggregator for gift cards in India, says Pratap, who was in the city recently. The company has partnered with over 150 brands, including Amazon, Flipkart, PVR Cinemas, BookMyShow, Myntra, Pantaloons, Lifestyle, Shoppers Stop, Crossword, Cleartrip, Fastrack, Fabindia, and Big Bazaar, and offers customers a range of options to choose from.
The gift cards of some brands begin at Rs. 100 and go up to Rs. 50,000. The cards can be delivered physically or can be sent to the recipient via mail or WhatsApp. "According to research, 75% of gift purchases happen 48 hours before the actual event," says Pratap. And gift cards, he believes, are the most convenient and hassle-free option for last-minute shoppers. So, even if you realise at the moment that it is your friend's birthday today, you can always log in to the Woohoo app or site and send him or her a gift card through WhatsApp in a matter of just five minutes.
The Woohoo team also ensures that the bells and whistles of gift giving are not lost in the digital experience. The gift giver could attach a selfie or an audio message to the gift card, and personalise it with photographs from the phone gallery, before hitting the send button. Pratap says the company has taken every effort to "address the challenges faced by consumers" and to make the experience "more personal and more memorable". Through Woohoo, you could also send a cake, bouquet or card along with the physical gift card.
It has been almost 10 years since Pratap, along with two of his BITS Pilani classmates, began Qwikcilver, and he says the adoption rates for gift cards still fall behind three years of what they had expected. "There was a time when we were happy because we sold 100 cards a month," he says. With a "300% year-on-year growth" , Qwikcilver has certainly come a long way. Amazon, Helion Venture Partners, Accel, and Sistema Asia Fund have invested in the company over the years. The promotion of gift cards by brands has also helped Qwikcilver, which powers 90% of the gift cards in the Indian market.
One thing that Woohoo is bullish about is its knowledge of consumer behaviour. Pratap says the platform has evolved over time, developing features to match the interests of consumers. It provides a digital locker experience for gift cards wherein you can save all the gift cards that you have received via Woohoo, and use them at your convenience, even as the app sends you reminders about the expiry date of various individual cards. There is also an option to sell cards that you have received at a price that you may decide. The cards are verified and listed by the Woohoo team. "We are India's first secondary consumer-to-consumer market for gift cards," says Pratap. The group gifting feature that lets the consumer invite friends to pool in resources to buy a gift card was introduced only six months ago. There is also the relatively new 'Gift of giving' feature that lets groups make a contribution towards charitable causes through gift cards.
"We are on the right track," says Pratap, adding that he is delighted that brands and consumers have reposed their faith in the company. With the government too making a push for digital transactions, Woohoo envisions a four-fold or five-fold growth in the coming years. Given India's culture of gifting, it was difficult to make a breakthrough, but today, Pratap says, that Woohoo has managed to make its presence felt in even Tier 3 and Tier 4 cities and change the way people look at gifting.