Every mother is special in her own ways with her unique superpowers. We always fall short of words when it comes to expressing our love and gratitude towards them for whatever they have done for us. Yet, overwhelming love for your mothers was articulated in the most beautiful and commendable ways.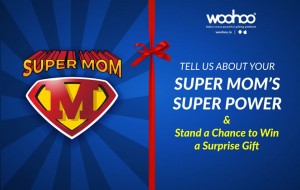 This Woohoo Mother's Day contest has been a special and memorable one with a spectrum of heartwarming response.  The impact that it created was beyond our expectation and it gives us immense pride to have hosted such a contest where we could celebrate the purest relation on earth successfully. For us, each one of you has emerged as a winner but to abide by the rules we must select the top performers who won our hearts.
Though the choice was very tough, here we are with the winners:
Winners of Facebook:
• Anokhi
• Anu Kukreja
• Nicku Jaiswal
• Richa Agarwal Gupta
• Ramesha Sha
Winners of Twitter:
• Kirti Basal
• Vaibhav Jaiswal
• Rehana Khambaty
• Nisha Verma
• Sunita Katyal
Congratulations to all our winners! Your special gifts are on their way.
A Sneak peek into what our winners had to say about their lovely mothers:
Facebook winners:
All our participants have truly touched our hearts but the ones who evaded our hearts were these above-mentioned winners whose appreciation posts stood out.
Let's start off with Anokhi who presented superpowers of her mother by listing down her qualities and how her mother's multi-tasking quality holds her and her family together and is a saviour for her in every adverse situation. Our moms are indeed the shields which always keeps negativity away from us. We just can't imagine our lives without them.
Nicku Jaiswal expounded how his mother is an all-rounder and angel in disguise in his family through some instances. He went to say that his mother is a lucky charm and key to his family's happiness. She is selflessly catering to all with no complaints and no demands. Next in line is Anu Kukreja who emphasizes on how our moms are the epitome of strength and how she can convert every shortcoming into an opportunity. She compares her mom to Superman and highlights her achievements to express her respect and gratitude towards her. Whatever we are today, and we are going to become tomorrow is because of our mom's support and blessing. While others have indicated the qualities of our mothers, Richa Kumar Gupta throws light on how our mother's touch and aura work wonders for us. Their kiss, hug or pat is enough to make us forget all our problems and remind us that all is well.  Through his story, Ramesha Sha elucidates how our mothers are divine and can change roles according to the situation for her child. She goes beyond her way to protect and support her child in every endeavour. For a mother, her child is the greatest gift in this world and her priority. She is the only person who never judges you and treats you lower than anyone else.
Twitter Winners:
While people on Facebook could express wholeheartedly through unrestricted word limit, Participants on twitter also did an amazing job and didn't allow this character limit to hinder their expression of love. In fact, participants opted for creative ways of highlighting the superpowers and showcasing their gratitude for their mothers. Pictures, collages, videos, songs, handmade greeting and what not. Clearly twitter users are not affected by any barriers when it comes to their mothers. This is how strong a mother's love is. Let's look into what our winners have to say:
Vaibhav Jaiswal celebrates his mother's qualities by calling her superpower which never fails. He applauds her forgiving and patient nature through his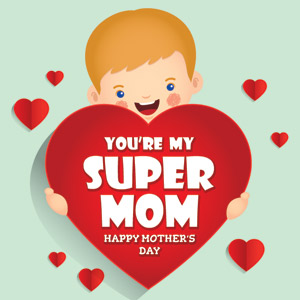 tweet.  Next, we have Kirti Basal who seems to be Lord of Rings fan, indicates a unique foresight and ability to detect something is wrong with her child even if she miles apart. Rehana Khambaty is grateful to God for giving her mother who is always showering unconditional love and is always motivating us to achieve greater heights.  Nisha Verma talks about how our mothers always standing by us through our thick and thin. They are just not our well-wishers but also our best friends with whom we can share everything. Sunita Katyal, on the other hand, portrays moms as the best advisor and a guiding light in whichever path, we take.
As we have mentioned earlier it wasn't an easy task to choose the best ones from a pool of heartfelt responses and for us, each one of you who participated is a winner. So, don't be disheartened if you didn't feature in this winners list and not win the surprise gift. Do not lose hope as we have many more contests coming up. Till then visit woohoo.in to get the most ideal and perfect gifts for your mom.