By Sakshi Bansal
When I think back to all the learnings that took place up until now I have to say that my idol and my favourite teacher is my wonderful mother, Poonam Bansal.
My fabulous mother has always been a great inspiration and supporter in each and every thing, throughout my life. The bond between me and my mother is not only limited to mother and daughter but it is far beyond it, as she is a great friend, a teacher and a trainer too. She represents a true picture of peace, contentment and courage and poured all these qualities in me to make me a better person. She has always taught me not to flummox and never say die but stand up to whatever the situation be.
She always says this catchy phrase…
"Ya to koi chiz asaan hoti hai ya bahut asaan, mushkil kuch nahi hota", which really helps me in achieving anything I want.
Thank you so much mom for being such A Great Inspirer, An Empower and An Engager.
I am truly blessed and treasured to have you.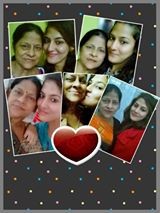 By Manju Nihalani
The sudden loss of my father left me forlorn and distressed. I was in 11th std. I lost my interest in my studies. One day my Principal, Sister Mabel, called me to her office. She gave me hug and asked me to cry my heart out. She spent almost an hour with me. Talking about my family, my dreams, my goals. Once I was calm and poised as she made me understand that life does not ends here. I have to be strong enough to face all the tragedies, hardships and difficulties.
Her compassion, ardent love, encouragement, appreciation once again made me lively and confident. I passed my board exams with flying colours.
For me, a TEACHER is an Angel. A person who can judge your virtues and vices, who can bring out the best in you. From the core of my heart I am always thankful to Sister Mabel who believed in me and made me a better person to live in this world. Sharing a memorable picture when I met her almost after 22 years and enjoyed the same warmth and comfort.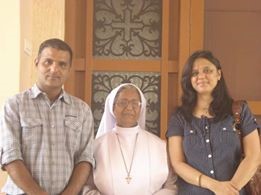 These stories, shared by our dear Woohoo fans, are part of the #WoohooDiaries series. If these stories inspire you (as much as they inspired us to launch this series) or if they remind you of someone you'd like thank, say hello or just send a note to, we at Woohoo would be more than happy to be the medium for your message. To send personalized little e-gift cards / e-notes to them via an SMS, Whatsapp or email, click here. If you'd prefer to have a physical gift card delivered to them, visit us at Woohoo.in.