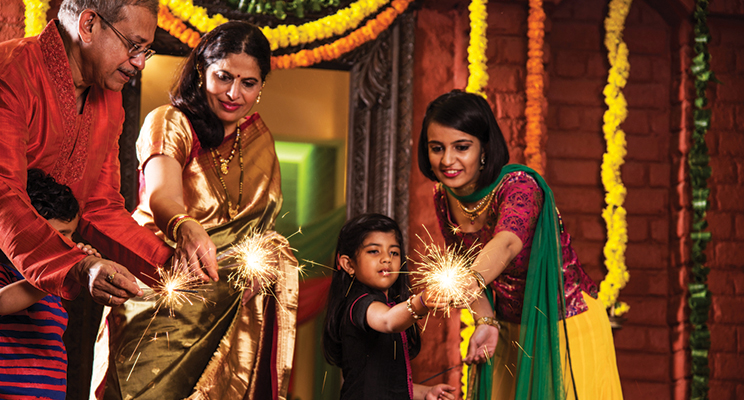 Diwali – that magical, exciting, utterly bright and wonderful festival is here again. No matter what your journey has been over the year, the magic of Diwali makes everything feel fresh and lovely again. Old woes are forgotten and old hurts are forgiven. Everyone feels generous and happy during Diwali – it's something to do with the bright lights, the firecrackers, and the smiles on peoples' faces – you know it. So why not go all out and give the whole world to your loved ones this Diwali?
Why Do People Give and Receive Gifts during Diwali?
On this, the happiest holiday ever, people celebrate the victory of good over evil, of light over darkness. Everyone cleans their homes so that even the darkest corner gets some light. Beautiful lamps are lit everywhere, to dispel darkness and to bring in cheer and good fortune. Of course, people buy new clothes for themselves and their loved ones.
Along with sweets, people share their good fortune with each other through gifts. It is believed that gifting brings good luck during Diwali, as it pleases the Goddess of Wealth, Lakshmi. On Dhanteras especially, people gift gold and silver articles to please the goddess and invoke her blessings for a prosperous life.
What are the Popular Gifts During Diwali?
Gold and silver jewelry are considered to bring prosperity both to the giver and receiver, so many people shop for gold and silver articles during Diwali. Another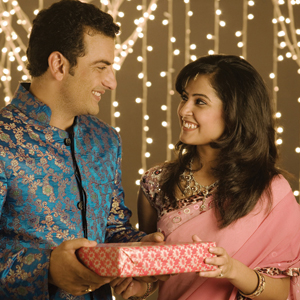 popular gift is apparel, as fine clothing is a sign of prosperity as well. Kitchen utensils, furniture, furnishings, food and books are preferred as gifts. Diwali is the biggest shopping holiday in India, when people line up at department stores to buy the choicest gifts for their loved ones. What do you plan on gifting your family this Diwali? Are you going to go the traditional route and buy gold coins for your wife or husband? Will you be investing in some real estate? Would you rather buy some rare and valuable books?
What Do You Plan On Gifting Your Loved Ones?
Diwali is that particular time when the giving is bigger than the giver. People take great pleasure in giving gifts, and not just in receiving them. However, there is no doubt that year after year, you might fall short of ideas to buy gifts for Diwali. You have been giving sweets, jewelry, and figurines as Diwali gifts all these years. Would like to gift something different this Diwali? Go for a gift card and give your loved ones the power of choice – a choice to pick the gift as per their own taste and convenience.
Best Diwali Gift Cards and E-Gift Cards to Buy
There's no doubt the choice for gifts is immense at Woohoo.in. While buying something straight off your dear one's wish list is the safest strategy, we think that you can consider their circumstances and their personality too. So, select a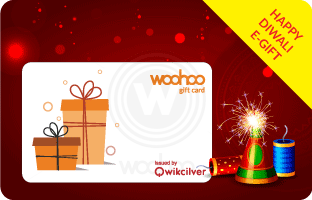 brand that you know your gift recipient will favor. For example, if your wife loves jewelry, choose a gift card from CaratLane. If your son loves the latest cool jeans, give him a Levi's or Myntra e-gift card. If you're absolutely not sure what your gift recipient might like, stay on the safe side by opting for a gift card from a hypermarket brand like Lifestyle or Shoppers Stop. And, there is Woohoo gift card, the high-power gift card which can be redeemed against 100+ brand gift cards listed in Woohoo.in.
Or, what about gifting them experiences they'll treasure, such as travel, a fine meal at a top restaurant and so on. Visit Woohoo.in and explore our many gifting categories and find the best Diwali gift cards. You will be glad you did.
Woohoo Gifting League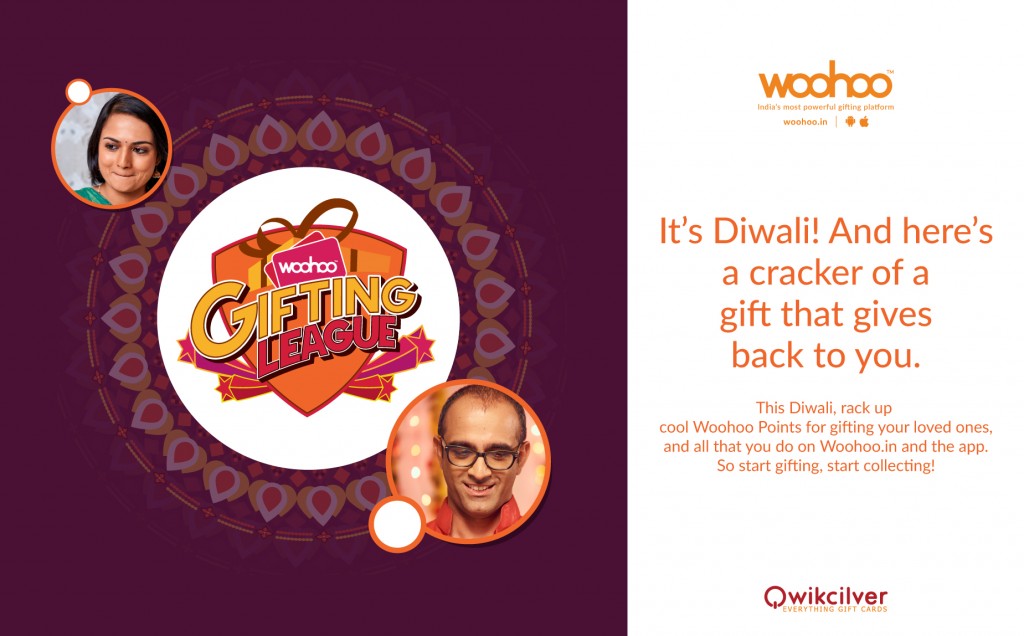 With Woohoo Gifting League, the first of its kind gift card bonanza, you can win Woohoo points for every transaction on Woohoo.in or Woohoo app. Accumulate points & get exclusive benefits, privileges & gift cards worth up to Rs. 10000! So, start gifting, start collecting.