The #MyWoohooTeacher contest that ran for about a week on Woohoo's Facebook page saw heartfelt messages pouring in from across the country. Students (young and old) expressed their gratitude towards their teachers.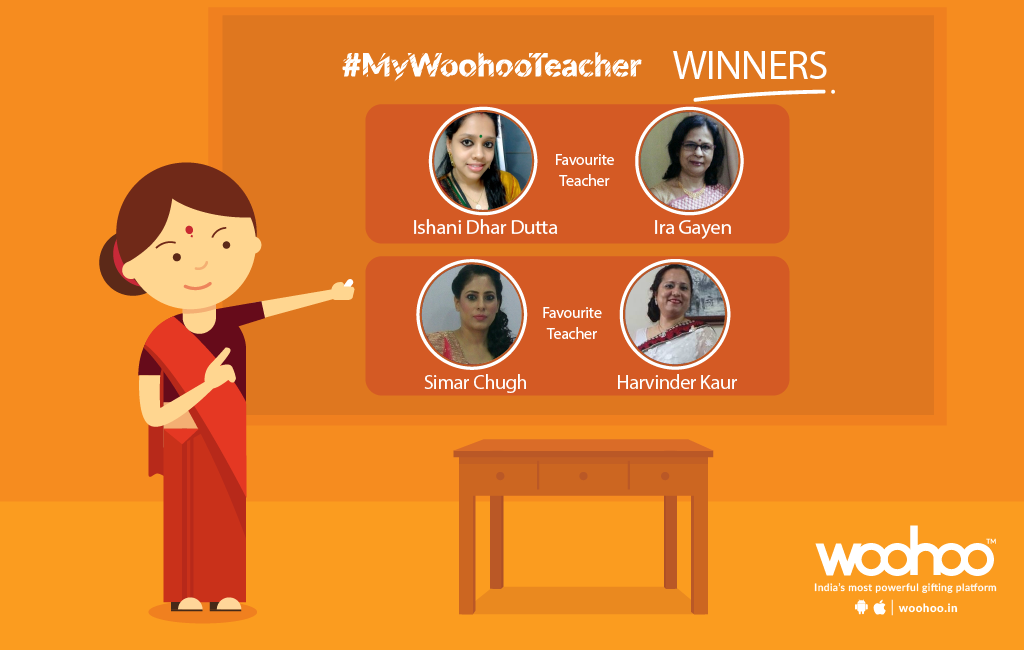 Here are two of the winning posts from the #MyWoohooTeacher contest.
Simar Chugh:
#MyWoohooTeacher #TeachersDay @WoohooGifting
Teacher is a light that shows us the right path for our bright future. She is a guiding force to make us excel in everything we do. She keeps on motivating and encouraging us throughout our learning period. My English teacher Harvinder Kaur was a real gem. I feel great to be taught by her. She always used newer methods to explain various topics to me. She taught all of her students to work extremely hard to earn the grades that they received. She never hesitates to listen to problems of the students and she is always ready to help anyone at any time. I feel she resembles a candle which consumes itself to light the way for others. She taught me many values and nurtured many virtues which I cherish till date. Thanks for instilling great values during my formative years. I remember you often. Thanks for being there.
Ishani Dhar Dutta:
#MyWoohooTeacher #TeachersDay @WoohooGifting
My favorite teacher, Ira Gayen, is the best teacher in this world. Wherever I go in my life I will always remember that I have excellent leadership as a teacher – you. I found the manual, friendship, discipline and love, all rolled into one. Without you, I would have been lost. THANKS for guiding me, inspiring me and making me what I am today.
I will always be grateful for all the hard work and effort that you put in the field of education for me. You are a friend, philosopher and guide, all formed in one person.
Her lessons were extremely interesting. She was efficient and absolutely fascinating with her lovely personality. She made every student feel like one of her own. She shaped my destiny and gave me confidence. She encourages us to ask questions so that we may be able to understand the subject well. She never loses patience with those students who take long to grasp the subject. She is a great combination of kindness and strictness.
She is courteous to her colleagues and the principal of the school. I have never seen lose her temper. She makes me love going to school. She is an ideal teacher and a good role model. She always used to make the class laugh and she always had everyone's attention. I don't ever remember a single time when she had to tell anyone to be quiet. All the students had a natural respect for her.
Aapse hi sikha, aapse hi jaana, Aap hi ko humne guru hai maana, Sikha hai sab kuch aapse humne, Kalam ka matlab aapse hai jaana.
Thank You so much for being with me in every path of my Life like a Supportive backbone…I love you and Miss you for all the difficult MATH Calculations.