We ran the #WoohooClickAPic contest on Instagram wherein our fans were encouraged to share pictures of their celebrations with their friends and family on Ganesh Chaturthi and Onam. The winners of the contest bagged gift cards from Woohoo. We were also overwhelmed to receive detailed descriptions of how people celebrated the two festivals – some highlighted the eco-friendly aspects of their celebrations while some shared the good feeling and the festive mood. Sharing a few of them here…
@swati.gupta1981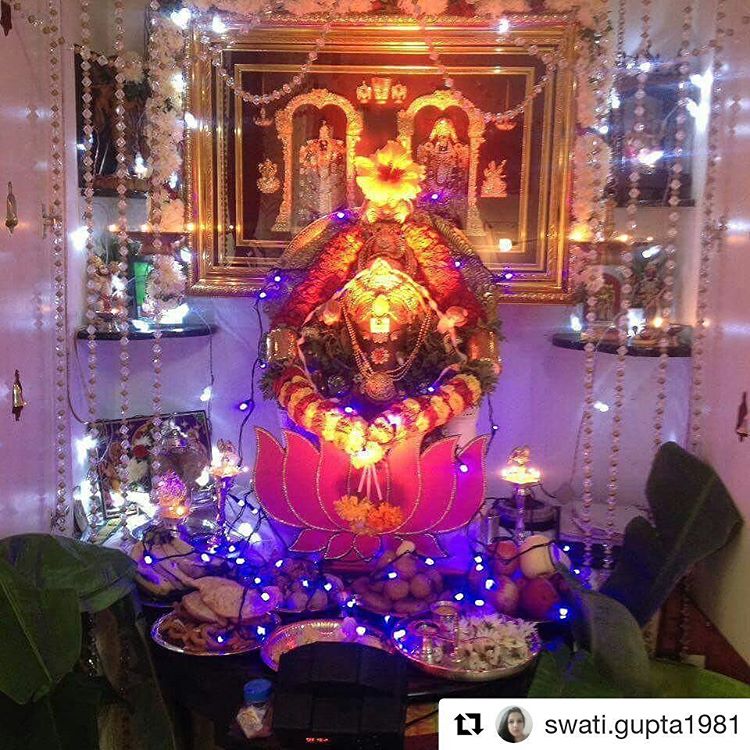 @poonam_216
This year we have welcomed bappa in an eco-friendly way. We got an eco-friendly Ganu Bappa idol made from entire coconut and its outer shell. I have prepared his favourite Modaks, Ladoos and special Naivedyam. We created simple and sober decoration made from leaves and flowers. Its fresh fragrance and natural look added a unique divine charm. The biodegradable items like flowers, leaves, garlands will be used for preparing compost by mixing with the soil which will help to fertilize the garden. We will perform a symbolic immersion by sprinkling water on Ganesh idol and place it in the Puja Ghar instead of immersing it in water bodies and creating harm to the environment. I also plan to use the same idol next year. For me, celebrating Ganesh Chaturthi is not about how big your idol is or how expensive your decoration is. It is not about a display of wealth or showing off. Rather, it is about the religious sentiments, emotions and feelings in your heart. One should celebrate and enjoy the festival without causing damage to the environment. The nature of our future depends on the future of our nature. So let us all respect the nature and pledge to celebrate it in an eco-friendly manner.
@pavnisharma17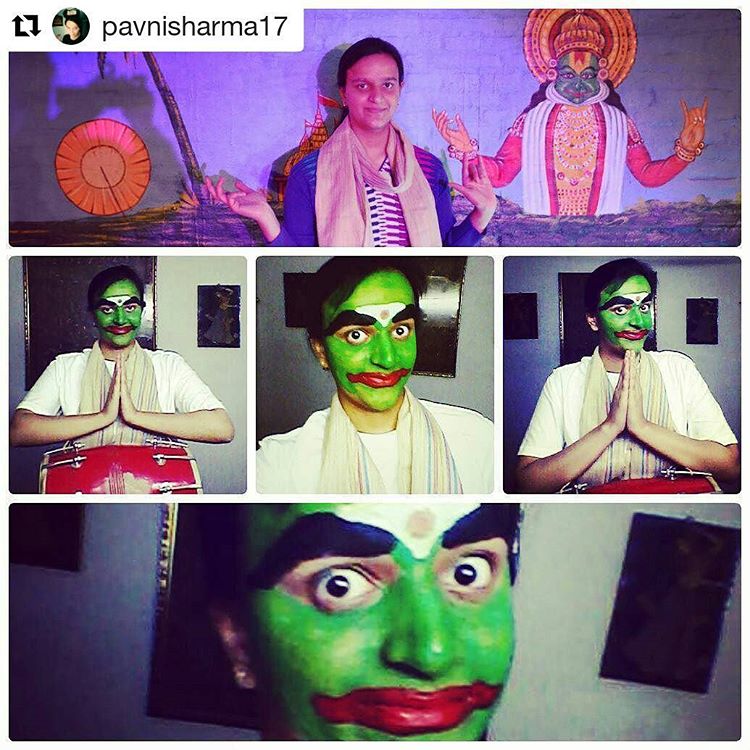 @shivanikaranwal
Ganpati Bappa Morya……This is really a special festival for me and I am damn excited for this. I made Ganesha at home from unbaked clay. I put my handmade chotu Ganpati too in my mandir. I used clothes to decorate the pandal. Just like in Holi we are advised to refrain from chemical colors, even for Ganpati one needs to refrain from using 'unhealthy colors'. Go for organic and natural colours and our Bappa will still look as beautiful. Instead of electric bulbs I used diyas to save some energy. Visarjan is very difficult for any Ganesh devotee and we all want to give him the best farewell, but our cherished deity would love if we spare a serious thought for our marine life and have a small scale immersion in a small pond or a small container, to save as much water as possible! Bappa's happiness lies in keeping his beings happy and that include even those living in the water! I'm really going to save my environment with these steps. Hope my bappa will like my efforts and always shower his blessings upon me. Happy Ganesh Chaturthi to all.
@smartdiva_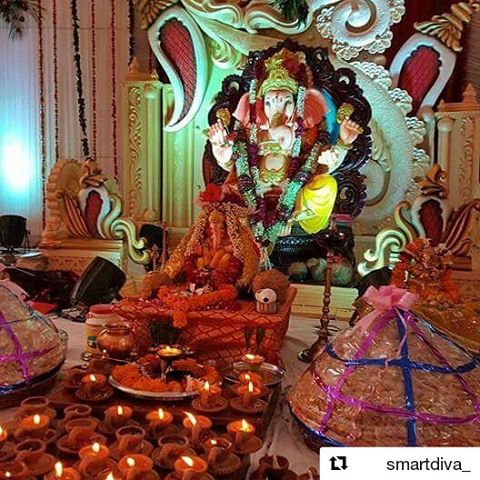 @Sunitakatyal
We Celebrate Ganesha Chaturthi at home every year and our celebrations include decorating Lord Ganesha's idol, Preparing Modak & this year, for a change, I made Kaju Modak and even created Rangoli. I created my eco-friendly Ganesha (which is made of sugar) with a wish that Lord Ganesha brings lots of sweetness in everyone's lives, removing all obstacles in living a peaceful life. Lord Ganesha is widely revered as the remover of obstacles and the deva of intellect and wisdom. As the god of beginnings, he is honoured at the start of rituals and ceremonies. For me, I have full trust in my Vighnaharta who will remove not only my obstacles both of material and spiritual order but for everyone who believes in his mighty Powers. Lord Ganesha is Omnipresent, Omniscient and Omnipotent and I really pray that our planet becomes a Greener Planet and becomes disease free. We humans are facing challenges in our lives of not only severe weather changes but frequent natural calamities like floods, tsunamis, tornado and newer diseases like Zica, Chikunguniya and dengue which are claiming lives of innocent people and I really pray that Lord Ganesha gives us the guidance and wit to not cut trees rampantly for constructing endless buildings that is major reason of ecological imbalance. Also, I pray that Lord Ganesha empowers human beings to develop vaccinations at the earliest for all these deadly diseases so no one loses his life due to unavailability of these. Lastly, I just summarize my prayer as "Dearest Lord Ganesha, Our Vighnaharta, You are Omnipresent, Omniscient & Omnipotent & we all pray to you to remove all obstacles that stop we humans to lead a peaceful life with your supreme powers guide us to shine bright. Guide us to keep our planet green and every innocent human free of fright. Remove all the hatred in this world and empowering us to fight every battle of life."
@aarti_1000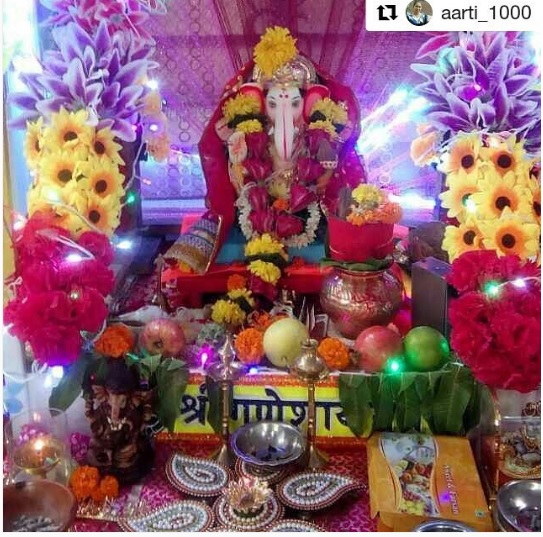 @rameshwaribansod
I think pollution is our vighna for our life so I made eco-friendly Chocolate Ganeshji. My Ganpati Celebrations completely Eco-Friendly. I made Chocolate Ganpati for Ganesh celebration. I used Mawa, Coco powder & sugar powder. I made home made Ganesha & his little mouse of Chocolate, Chocolate Modak which is totally eco-friendly. I didn't use any chemical colour. (y) ?? My Intention to make Chocolate Ganpati is that it has nutritious value as there is cocoa & milk there is no Pollution. I gave 1st preference to home-made materials. I used very few ready made things. Home made things pave me to my creativity. I already planned to make prasad like Modak, Laddo which give me purity. Daily I will draw flower rangoli with made up of mango leaves and flower. Beside that I made Ganpati Rangoli on old record player which is made of Sea Shells. I like to play Ganesh Celebration "ATHARVASHIRSH" and "Ganesh Shuti" on my dvd player and read "ATHARVASHIRSH" every morning and evening and lighting essence stick (dhopp). And also made eco-friendly mango leaves festoon (it's called toran) for my house, to hang on my front door, decorate the walls with electric lighting.
My wish to Lord Ganesha- <3 "May Ganesha Spread tonnes of happiness, may Bappa expel the monster of epidemic diseases like Dengue, Maleriya. Every girl child get safe atmosphere and children get enough food, education. No Child Labour. Every soul get wings of courage, concept of Eco-friendly should take root so that our mother earth remains safe." I made Ganesh Pot of Milk and distributed that milk as Prasad to all the children, family & friends. Everyone should think about "GO ECO-FRIENDLY & GO GREEN KEEP GREEN" otherwise we will face destruction of our own mankind. This is the need of the hour, so make a move accordingly. So Bolo "Ganapati Bappa Morya Mangal Murti Morya". <3