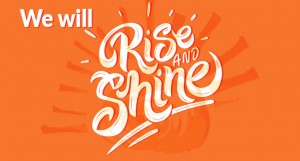 We have all come a long way and it's been quite difficult for each one of us. Covid 19 has changed the world as we know it but our love for you remains the same. We stand for you and with you and will always do our bit to make you smile because we care for you.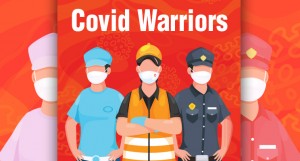 The best gift that all of us have got is the support of each other so let's appreciate and express our gratitude towards the Heroes of our lives – the Auto drivers who relentlessly help us get to the hospitals, the doctors and nurses who have not seen their family since forever, the delivery agents who travel miles to deliver our orders, the police officers who are standing on their feet to ensure we are safe and the thousand of hands working to provide free meals, oxygen cylinders, reminders and using their social media to spread a positive word. A salute to them.
The smallest effort from each one of us can make a huge difference and be the reason for someone's smile so let us keep going and continue our efforts. The battle is not over but it will be one day and we will all be victorious. Till Then…
Be strong now because things will get better,
It might be stormy now but it can't rain forever
Slow down and soak it up for yourself and others
We will rise by lifting up each other.
Let's stand for each other…
Slow and steady, mask by mask, dose by dose,
We will get through this together.
It is only in times like these that we forget to count on our blessings and celebrate our loved ones. Amidst the darkness, there is always light and that light is the survival and health of our near and dear ones and their unconditional support and care. It's time to say thank you to them as well and shower them with happiness and appreciation for holding up.
You must be thinking, how can we celebrate the heroes and warriors of our lives amidst a pandemic?
Mmm… Like always we have got your back. We have curated a list of amazing lockdown surprises for your parents, children, spouses, friends, and anyone who is important to you that can be delivered instantly and will make your giftee go Wow Wow! Not all our loved ones live next door but that shouldn't stop us from expressing our love. Also, let's not forget the ones who have their birthdays during these times, don't they deserve more than zoom wishes and WhatsApp messages. Gift them things that they love and would make their day.
Gifts for Covid Survivors: Covid 19 patients are usually tired of the kada and khichdis that they are fed, making a yummy pizza from Dominos or their favorite Polar Bears death by chocolate ice cream, a perfect gift for a change but ensure that you send them this gift after they have fully recovered and are completely healthy. You can also send an apollo Healing gift card to show that you care
Gifts for Covid Warriors: The doctors, medical staff, Police officers, Delivery agents, auto drivers, and all the volunteers working for our safety are certainly angels in disguise and deserve the best. The least we can do is to honor their selfless service and bring a smile to their face by gifting them an Amazon or a Flipkart E- gift card to make them feel special.
Gifts to cheer up our Kids: Our children love being outside but in these precarious times it's not possible. This shouldn't stop the fun and growth of your kids, thus giving them toys such as building blocks not only keeps them engaged but also makes their childhood fun and memorable
Gifts for your distant loved ones: Love shouldn't wait and should always find its way no matter how far we are from each other, thus we have come up with Wow gifts that can be sent instantly from the comfort of your homes such as Starbucks Coffee, Health and glow hair care products, etc.
Gifts for different occasions: Festivals and different occasions are our favorite days of the year because we get to connect with our loved ones and see the smiles on their faces. You may not be able to celebrate together but you still make them smile by giving them their favorite peppy paneer pizza from dominos or a Myntra fashion gift card.
After all, food is the way to anyone and everyone's heart.
Gifts to just express your love: The pandemic has certainly brought a shift in lifestyle. Managing time and staying connected with your friends and family has become more difficult than ever. It's imperative that we stand by each other and spread the love by sending each other thoughtful gifts such as a Sony LIV subscription to keep them entertained or a Nykaa gift card for taking care of their skin.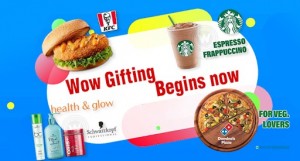 Unlike shopping for the Pre lockdown gifts, with Woohoo you can instantly send these gifts to your loved ones and feel closer than ever. These gifts are not wrapped in paper but are wrapped in love and provide endless choices to you and your loved ones. Now that we have given you so many options, you have no excuses to make. So Hurry up and begin your journey with WOW gifting.